Nolanville Movers Near Me - Moving Companies Nolanville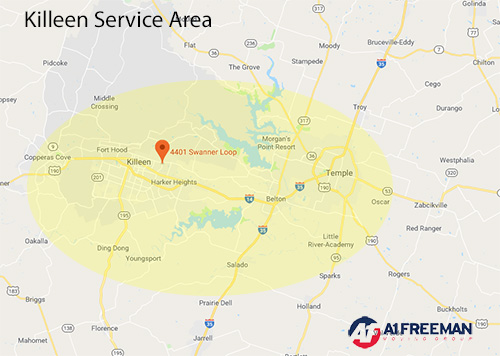 Located at:
1004 W. Hwy 190
Nolanville, TX 76559
(254) 892-6020
To ensure that every Nolanville move –
commercial
or
residential
– that the professionals at A-1 Freeman take on is executed efficiently, safely, on-time and on-budget, a dedicated Move Coordinator is assigned to each project at
our local Nolanville office
. Your Move Coordinator will be there before, during and after your transition, providing logistical guidance, direction and support to our team of highly trained movers and drivers.
As an organization, we aim to provide honest, dedicated service and support to our customers. As a dedicated agent for North American Van Lines, one of the largest and most respected transportation companies in the world, we wouldn't have it any other way.
Call now and see what a difference 40 years of experience can make. Your free consultation and no-obligation quote is waiting! You can also fill out a quote form right here on our website and we'll get in touch with you!
Request a free quote