Professional Offsite Storage for Any Business Need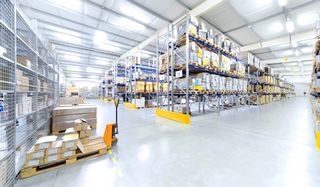 With 12 state-of-the-art warehouses and 1 million-plus square feet of vaulted storage space, we can handle virtually any professional storage need. Whether you're looking for someplace to store some items while your office relocation is underway or for secure storage vaults to hold your company's unused furniture, office decor items, office machinery or electronic and IT equipment, you needn't look further than A-1 Freeman. Our weather-proofed facilities are among the safest and most secure anywhere. With 40-plus years in the industry and thousands of customers reporting satisfaction, we can say with confidence that our flexible, full-service storage solutions are able to meet virtually any business requirement.
We understand that each of our business clients is unique, and we strive to fulfill their expectations and accommodate every reasonable request.
Our professional storage services include:
Short- and long-term storage options
An advanced Inventory Management System
Wrapping and padding for individual items
Boxed file storage
Onsite 7-day-a-week facility staffing
Weather-proofed warehouses that are as clean as they are secure
Enclosed wooden vaults
Professional delivery by experienced movers
Whichever A-1 Freeman storage services you choose, you can be sure they'll conform to the highest industry standards. Our onsite staff is highly trained and extremely knowledgeable in delivering our services. This ensures that, with a 24-hour minimum notice, they can quickly and safely retrieve the items that you need and deliver them when you need them.
Not sure if you need short-term or long-term storage? Rest easy. We can work creatively with your requirements to find the solution that's right for you.
For more information on the professional storage services we offer, call us and speak with one of our friendly, knowledgeable Customer Support Specialists now!
Request a free quote