Safe and Efficient Warehousing Services & Solutions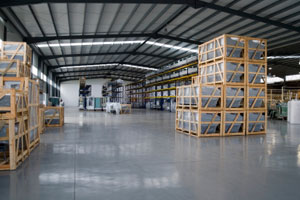 Renting or maintaining a warehouse for your inventory is expensive and oftentimes unnecessary. Instead, think of how much you would save if you relied on a full-service logistics company with competitive pricing. A-1 Freeman Moving Group is the company that can offer you the warehouse solutions you need for the safe and efficient storage, transportation and distribution of your products. We can save your company the expense of running your own facility, and can streamline your deliveries to anywhere in the world as a bonus.
Our warehouse storage solutions can be customized to your business's precise needs. You may require temporary storage for a single event, or seasonal storage over the summer and winter. No matter how short-term or long-term your storage requirements are, A-1 Freeman will accommodate you. In addition to a custom storage term, you can store all of your valuables safely with us. A-1 Freeman can handle anything from sensitive electronics and X-Ray equipment to heavy industrial machinery. We have the alarmed, climate-controlled spaces available that will keep any shipment in perfect condition.
Our warehouse storage includes an advanced Inventory Management System that allows our team to track and locate your products quickly, whenever they are needed. As a result, our pickups and deliveries are prompt and error-free.
Don't delay any longer – call now to speak with one of our storage specialists about our capabilities, or fill out our online quote form to receive a free estimate! A-1 Freeman Moving Group is here to provide the solutions your business deserves.
Read What Others Have Said About Us
Request a free quote