Trusted Corporate Relocation Services for Moving Your Employees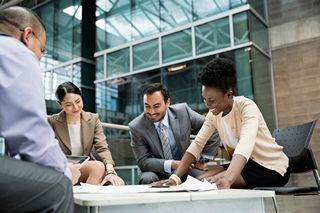 At A-1 Freeman, we recognize that during an employee household relocation, the employee forms lasting impressions of the company.
Done correctly, corporate relocation leads to:
Higher Job Satisfaction
Organizational Commitment
Lower Turnover
Higher Performance Levels
Career Effectiveness
Lowered Stress
An effective mobility strategy not only increases employee performance and retention, but it is crucial for driving diversity within the organization.
Our goal is to make every corporate relocation a smooth, satisfying experience not only for the employee, but also for the company involved. To ensure the well-being of everyone involved in your
corporate relocation
, we offer a comprehensive range of moving services. Our strategy involves doing all we can to accommodate your productivity and operational needs while, at the same time, looking to the personal needs of your employees. We have streamlined the corporate relocation process over the past 40 years and the process that we utilize to move both companies and employees helps to significantly reduce the stresses and strains of moving.

Employee Relocation Highlights
Corporate Profile & Needs Assessment
Local, Long Distance or International Household Goods Moving Options
Accurate Estimates
No Surprises or Extra Charges
Business Reviews
Let A-1 Freeman Moving Group help customize a mobility solution for your employee relocations. Contact us today!
Request a free quote