Reliable and Professional LTL Trucking & Freight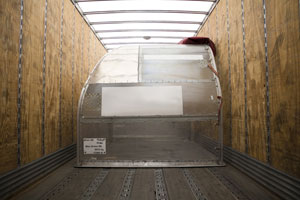 For custom LTL trucking and freight services, look no further than A-1 Freeman Moving Group, one of the leading logistics providers in the United States. A-1 Freeman and CRST can ship your inventory anywhere in the country with ease and efficiency. Our LTL services are reliable and affordable, and our professionals will ensure that your project stays on-time and on-budget the entire way.
When you rely on A-1 Freeman Moving Group, you'll have the advantage of some of the most highly-trained professionals in the industry moving your valuables with the most advanced equipment. Our LTL services are flexible and can be customized to your business' exact needs.
Air-ride suspension will keep your valuables safe the entire way over bumpy roads. A-1 Freeman Moving Group can palletize or deck your shipment if necessary, and load and unload your items from our trucks if you need assistance.
Our LTL trucking & freight service benefits don't end there – we also offer satellite tracking and convenient after-hours and weekend services to better help your business meet its objectives. Don't delay any longer for the high-quality LTL trucking assistance your business deserves, and contact A-1 Freeman Moving Group today with the details of your project. Call now, or fill out our online quote form to receive a no-obligation estimate!
Read What Others Have Said About Us
Request a free quote