Efficient First and Final Mile Solutions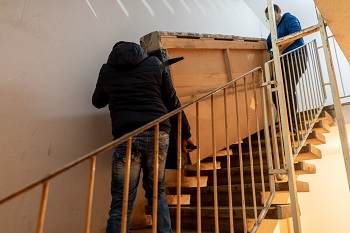 As an agent for CRST Specialized Transportation, A-1 Freeman Moving Group provides First and Final Mile services within the United States and Canada for large format product requiring specialized handling, delivery, assembly and/or complex installation.
We differentiate our first and final mile operations from that of the competition by providing measurably superior services, technology, management processes and continual process improvement.
We are the face and ambassadors of our customers, and we understand that Customer Experience is paramount.
Service Types
First mile
Delivery only
Assembly only
Complex installation only
Delivery with assembly
Delivery with complex installation
Assembly and Installation Services
Delivery/assembly in a single appointment
RTA furniture assembly
Wall mounting services
Kitchen cabinet install
Appliance installation
Outdoor playset installation
In-store assembly solutions
Project managed office buildouts
All assembly services are licensed and certified by state and local regulations, as required.
At A-1 Freeman Moving Group, we focus on being excellent at what we do by providing complex quality solutions that exceed your customers' expectations.
Don't delay any longer, and contact A-1 Freeman today to learn more about our first and final mile capabilities. Call now, or fill out our online quote form to receive a no-obligation estimate!
Read What Others Have Said About Us
Request a free quote