Our Moving Experts Blanket Wrap Your Belongings to Prevent Scratch and Dings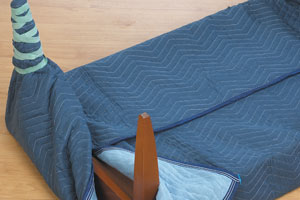 Whether you need to ship oak conference room tables and chairs or delicate lab and medical equipment, some of your valuables will require extra care during the moving process. Rely on A-1 Freeman Moving Group and our blanket wrapping services to get your items seamlessly from Point A to Point B. A-1 Freeman employs only the most dedicated professionals and uses state-of-the-art moving equipment to ensure the security of your items every step of the way. Some of the advantages of using A-1 Freeman for moving blanket wrap service in the continental United States and Canada include:
Prompt Deliveries to Single or Multiple Destinations
Off Hours/Weekend Deliveries for Your Convenience
Loading and Unloading Assistance
Dock to Dock Service
Decking Capabilities
In addition to moving blankets and supplies, A-1 Freeman Moving Group has access to a state-of-the-art fleet, including flat floor air-ride trailers with pads, cargo straps, and walkboards available by request. Whatever your company's requirements are, we will go above and beyond to customize our fleet to best meet your needs. Several of the many items we can move safely with our blanket wrap service include:
Cabinets for Computer Storage Companies
Commercial Refrigeration
Laboratory Equipment
Restaurant Equipment
Store Fixtures
And Much More!
Don't delay any longer, and contact A-1 Freeman Moving Group today with your moving requirements. Call now to speak with a knowledgeable logistics specialist, or fill out our online quote form to receive a no-obligation estimate!
Read What Others Have Said About Us
Request a free quote