Dallas Movers Near Me - Dallas Moving Companies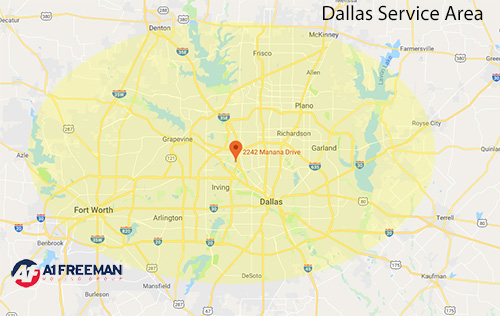 Located at:
2242 Manana Drive
Dallas, TX 75220
(972) 885-6567
If you're looking to move to or from Dallas, Texas, A-1 Freeman can help. Dallas is home to some of the most prominent Fortune 500 companies and boasts a very impressive economy and low cost of living. These are incentives which are continuously bringing residents and businesses to Dallas. With so many flocking to this great city and so many different schedules -
reliable, affordable and efficient Dallas Movers
are essential.
As full-service Dallas Movers since 1974, A-1 Freeman has entrenched itself as a dedicated and reliable moving company. We have successfully conducted hundreds of residential and commercial moves across Dallas and beyond state lines. We understand that our customers are looking for a trustworthy and reliable mover which is why we pride ourselves on the work we do. From beginning to end we want to make your residential or commercial move as seamless as possible.
Dallas Residential Movers
Dallas Storage
Dallas Records Management
Dallas International Movers
Dallas Corporate Relocation
Dallas Government & Military
Dallas Logistics
Dallas Specialized
Dallas Nationwide
Dallas Full Service
Dallas Professional
A-1 Freeman will begin by thoroughly inspecting your items to accurately determine the size of the move, which will help us provide the most accurate estimate of your move. We will then work with you directly to determine the moving day that works best for your schedule.
During your move our professional movers will arrive with the resources necessary to successfully complete your move. We will professionally wrap and pack any items necessary. As your Dallas Movers we employ only the most professional handlers and moving crews. At A-1 Freeman, we will go the extra mile to ensure that your belongings are well-protected and secure the entire way.
Though the expansive city has many options for Dallas Movers, we are the complete package. It all begins with a simple call to one of our agents who will then arrange a free in-home estimate, providing you with a specific example of how affordable we are. If you prefer to leave the stress of moving to professionals, we are the ultimate choice. We are your full-service Dallas Movers!
Save Money – Our extensive experience and expertise within Dallas allow us to offer top notch service at the most competitive moving prices.
Save Time – Our diverse range of moving services ensures complete moving solutions covering everything from a full service local move to solutions for international relocation.
Sleep Sound – Rest assured that by selecting A-1 Freeman as your professional Dallas Movers there will be no surprise costs and your possessions will be well cared for.
Best Reputation – Our decades of experience in Dallas, Texas allow us to be fast, responsive and knowledgeable so our customers stay happy and satisfied.
Contact A-1 Freeman Moving, your trusted Dallas Movers to help create a seamless moving transition to or from Dallas, Texas.
Request a free quote