Atlanta Movers Near Me - Moving Companies Atlanta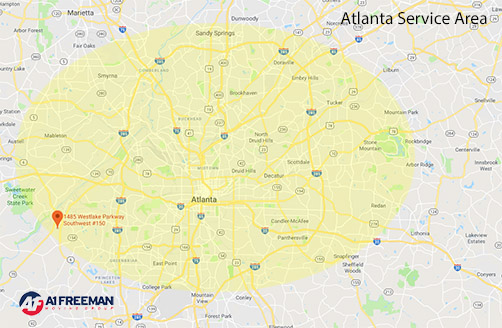 Located at:
1485 Westlake Parkway, Suite 150
Atlanta, GA 30336
(404) 975-1444
We are ready to provide you the best price and service to make your upcoming move the best moving experience you've ever had.
Why choose A-1 Freeman as your Atlanta movers?
Save Money Our extensive experience and expertise within Atlanta allow us to offer top notch service at the most competitive moving prices in Atlanta.
Save Time Our diverse range of moving services in Atlanta can provide you with a complete moving solution covering everything from a full service local move to solutions for international relocation.
Sleep Sound Rest assured that by selecting A-1 Freeman as your professional mover there will be no surprise costs and your possessions will be well cared for.
Best Reputation Our decades of experience in Atlanta allow us to be fast, responsive and knowledgeable so our customers stay happy and satisfied.
Free Quote Nothing to lose by filling out the above from or calling us for a fast and free quote for your move.
Privacy Any information you submit to A-1 Freeman is strictly kept confidential and will not be shared with anyone.
Our local Atlanta moving services include:
Packing
Loading and Unloading
Storage
Installation & Assembly
Pricing With No Surprises
The city of Atlanta is ever-changing, a large urban metropolis which has widespread international influence. The 5.2 million person population is perpetually in flux, with Atlantans moving to different areas and new residents making their home in the city. For the best moving services, A-1 Freeman is the optimum choice for your move, welcoming our customers' transition from Atlanta to other parts of the world.
We have been in business for over four decades, earning us accolades and experience in every facet of Atlanta moving services. When searching for movers in Atlanta, it is hard to come across a company that is as involved in the moving process with you as we are. Aside from choosing where you move, we take care of every other aspect. Other movers in Atlanta may claim to provide the moving services we do, but the simple fact is that there is no other Atlanta moving company so immersed in your individual move.
We provide you with the option to let us plan and execute your move to whichever degree you desire us to be involved. In fact, we can have as little or as much involvement as you desire. If you want us to pack up your belongings, we can do that. If you would rather gain tips on how to self-pack your belongings and just purchase packing materials from us, that option is available as well. Either way, we will ensure your possessions are loaded in an orderly fashion, with the most important necessities unloaded off the truck first.
Once in your new home, we provide more Atlanta moving services for your comprehensive moving experience. We will unpack your belongings and dispose of the packaging materials, if desired. We can also assemble and connect appliances in your new home if you choose. The extent to which we will go to facilitate your move is unsurpassed by any other movers in Atlanta.
It is assumed that stellar Atlanta moving services like ours would be beyond a reasonable budget. However, we are not only affordable, but we can work with your budget restrictions. There are many options that can be chosen and disregarded when working with us. The fees for these additional services are competitive in the industry, and the quality of our service is well worth the cost. We also adhere to a base pricing system, to which your cost will not exceed the given pricing. This type of guarantee proves that you can work with us and still remain within your budget.
Our Atlanta movers services are incomparable to those offered by other movers in Atlanta. We are your Atlanta movers. With supreme customer service and a personalized moving experience, we are more than capable of handling your move as your Atlanta Movers.
Request a free quote