Save Money on your Move by Scheduling with A-1 Freeman Before Peak Season Hits!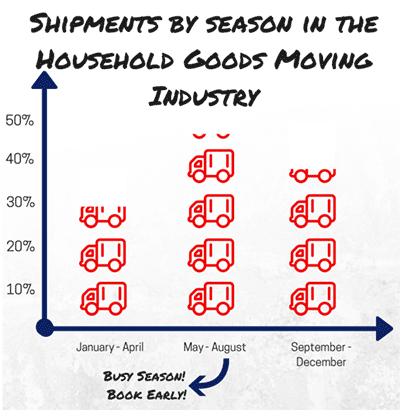 When you have to move from your house or apartment, you don't always have a lot of warning. These circumstances can't always be helped. However, there are a lot of times that you can plan for your move a few months in advance. When you know that you'll need a
local
or
long distance moving company
well in advance, make sure that you capitalize on this knowledge by planning your move outside of the peak moving season and you'll benefit both financially and mentally.
The main season to move really kicks into gear at the beginning of May. This is due to the fact that the weather is warmer, there is usually less rain to worry about, and kids are getting out of college and primary school.
This means that the demand for a mover goes up considerably.
Here at
A-1 Freeman
, we see firsthand every year that the general populace starts moving primarily from May to August. So what does this mean to you?
It means that if you know in February that you're going to be moving on the second weekend in July, you should take a proactive stance and schedule a mover early. This will pretty much guarantee that you have a properly staffed crew reserved and ready to go on that weekend. You won't have to worry about calling around town looking for a company who has an opening still, and you won't have to pay a premium for the privilege of hiring them. You'll be able to concentrate on packing up, getting your mail forwarded, and all the other details that go into a normal move.
As an extra benefit to scheduling your move ahead of peak season, here at A-1 Freeman we also offer a discount on your bill.
Schedule before May, and you'll save money, secure your truck space, and ensure that there's plenty of help ready for your move date. And don't worry if your plans change in the next few months. There is not penalty fee to change your scheduled date or cancel your moving arrangements. With absolutely no downside to booking early, why would you wait?
So don't delay any longer than you need to. Get a
free quote today
, and we'll get your spot reserved for your upcoming move today. We have all the services that you need to successfully get from your old home to your new home, no matter the distance or size of your haul. Reserve your spot before the peak move season kicks into full swing!
Request a free quote