Over 25 Moving Boxes & Tools To Make Your Move Easier
The Definitive Guide to Moving Boxes and Tools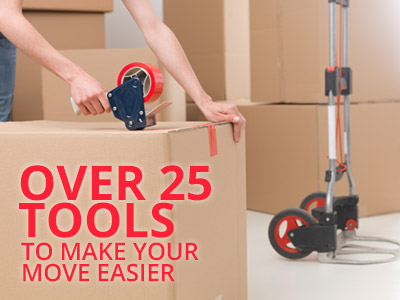 When you're handling a move by yourself, there are a lot of things you need to be aware of. You need to make sure you've got a truck lined up, you need to make sure you have all your paperwork finalized, and most important, you need to make sure you've got all the tools required to move. Even if you've been through multiple moves before, you might be shocked to find out just what all you were missing previously.
And even if you're hiring a
professional moving company
to help you out, some of these tools are incredibly useful throughout your lifetime. After all, how many times have you wanted to rearrange your living room, kitchen, den, or bedroom? By getting ahold of some of these moving tools, you'll make each and every scenario that much easier. You might just want to keep the fact that you own these tools under wraps, or you'll be THE go-to person when your friends and family need help moving!
The number of moving boxes and tools available is pretty impressive. These tools help you with everything from moving large pieces of furniture to effectively sealing a box or crate. Let's trek through them. We'll start our expedition with tools you need to move heavy furniture, moving boxes, and other burdensome items.
Forearm Forklift. This is one of the cooler moving tools we've seen. With this pair of straps strategically placed under the item you need to move, you can alleviate up to 66% of the weight by putting physics to good use! Each pair of straps can easily help you and your helper to lift up to 800 pounds without the need of any other large moving tools. The fact that you can easily fold them up, wrap them up, or hang them in the garage also helps by letting you keep more of your precious storage space for other things! You can check out the Forearm Forklift here. Just be sure you're getting your straps from the actual company and not a reseller to ensure the best quality.
Hi-Craft Lift-and-Carry Panel Mover. If you have a large mirror or a lot of bigger pictures, this is the perfect tool for you. Designed primarily for construction work, this panel carrier is designed specifically to haul heavy, flat things around. It's a bit of a niche tool, but if you have large mirrors or other big, flat items, you'll fall in love with it very quickly. A good example can be found here.

Dolly Carts. Sometimes referred to as hand carts or hand trucks, these little beauties are a fantastic way to move a number of moving boxes all at once, no matter how heavy they are. You need to simply load the heaviest boxes on the bottom and go lighter as the stack gets higher. Then, just simply tilt it back and push or pull it along to your truck or into your home. This increases your efficiency and saves your back and legs from accidental injury. These come in a variety of materials, so you can pick the right weight and style for your needs.
4-Wheel Hand Carts. If you need something bigger than a hand cart, you should look into picking up a big flat cart. These are typically 4-wheeled carts with a waist-high handle on one side. You can easily put heavier or larger-sized items on them in order to move them about more easily. You can either buy one for yourself, or check with your local moving companies to see if they have one you can rent.
Ramps. Getting a ramp for your doorsills and curbsides is a fantastic idea when you have mobile haulers such as the ones above. This will allow you to fully push, pull, or drag your carts through doorways without needing to apply extra effort in picking it up or accidently turning it over. These can also be used to get over small imperfections in a driveway or in a sidewalk.
Floor Sliders. These small, puck-shaped disks are perfect for when you need to move heavy pieces of furniture across a room. You simply place one slider under each foot of the piece, and you can easily slide it. Save your back, legs, and arms from unnecessary pain and stress with this simple method.
Truck Loading Ramps. So you've managed to haul your couch out to the driveway, but now you're faced with the task of getting it lifted off the ground and into the moving truck. A loading ramp can provide you with a tremendous amount of help. It will enable you to carry your boxes, furniture, and other possessions straight up and into the back of the truck without needing to lift the items any higher than is comfortable for you. Younger kids can even help load some boxes, as the ramp lets them simply walk right up and into the truck.
When you're
packing
up your bags and boxes, you're going to want to make sure they're secured tightly so you avoid things popping out or spilling during transit. After all, even the tried and true method of folding shut the flaps of a box can sometimes leave you with a giant mess when you get to your destination. And, as is true of so many other things associated with moving, you have a whole host of options available to you in order to safely secure your stuff. Some of our recommendations to add to your list of moving tools include:
Tape! We don't know of a single move that has been completed without needing tape. It's one of the easiest things to use when you need to secure your boxes, and cleanup is practically non-existent since it gets tossed out with the box at the end of the day. There are several types of tape you'll want to consider picking up, and each of them comes with its own benefits.

Packing Tape. It's right in the name! This is the extremely sticky and durable tape that most companies trust when they're shipping packages. It comes in a standard size to fit on a tape machine, allowing you to easily and quickly tape a box shut and move onto the next one. This is highly recommended for packing during any move.
Low Tack Tape. Commonly known at scotch tape, this is not nearly as effective in keeping boxes shut. However, it's very useful for smaller containers where packing tape might be overkill and for creating a surface to mark on, without permanently damaging an item.
Duct Tape. Duct tape will give you an adhesion that's second to none. If you really need to make sure your moving boxes stay closed, you can't go wrong by adding a roll of duct tape to your moving tools list. However, don't use it on surfaces that you want to remain clean, as duct tape is notoriously difficult to remove. You can even buy different colors to key them to where they need to go during move-in.

Bungee Cords. When it comes time to secure your boxes and things in your car, truck, or moving van, there's no better tool to use than bungee cords and retractable cargo straps. With multiple sizes available, it's pretty easy to find the right fit for your vehicle. Bungee cords provide a fast, stretchable solution for fastening boxes into a corner or side of the transport, and you can easily hook a few of them together to get even more length.
Cargo Straps. Also known as tie-down straps or ratchet straps, retractable cargo straps are another great way to secure your moving boxes, crates, and everything else. Their customizable length typically provides a lot more versatility than a set of bungee cords does . The one part about them that some people don't like is that you have to crank them to get a snug fit. This takes a bit of time compared to just hooking a bungee cord on, but it's not that big a deal once you get used to using them. Cargo straps are usually more expensive also, but you tend to need fewer of them to get the job done. Both are a fantastic option when it comes to securing your boxes in your vehicle.
Zip Ties and Twisty Ties. If you're like most people, you'll find you have a ton of wires, electrical cords, and other similar things in your possession. These can cause quite a headache when it comes time to move. They get all bunched up, tangled together, and don't stay in place, making it difficult to hook up your sound system or computer once you get to your new home. Well, luckily there's a relatively easy way to organize all these cords. After you wrap them up, simply attach a zip tie or twist tie to keep them together. This will allow you to retrieve them quickly from the box when you're ready for them. And seeing as how these ties are very inexpensive, you can add them to your moving tool kit without worrying about breaking the bank.
Bundling Stretch Wrap. This plastic wrap is the perfect solution for when you need to protect fragile surfaces such as mirrors, glass table tops, picture frames, and other similar items. It also makes for a great way to "tie together" boxes and other smaller items. Precious knickknacks benefit greatly from being wrapped in this kind of plastic. It can create a barrier that keeps them from jostling against other smaller items and possibly getting chipped or broken. Bundling stretch wrap can take the place of bubble wrap in a pinch, although the cleanup is a bit more involved.
Garbage Bags, Vacuum Bags, and Garment Bags. Having a whole host of bags in your moving tool kit is incredibly useful. You can easily move an entire closet of clothes without worrying about them getting dirty during transit. With a vacuum bag, you can also get a LOT more room, as once you remove the air from a pillow, quilt, or other cloth items you'll find there's not much to them. This will allow you to get more space in your boxes, or place them in your trunk or car without them spilling everywhere.
As you're going through the process of packing, you'll eventually come to your larger furniture pieces. Sometimes you need to take these items apart if you're going to fit everything into the moving van or truck. A moving tool kit just isn't complete without ways to handle this particular situation. As such, you're going to want to throw a fleshed-out toolbox onto the list of "must haves" when Moving Day arrives.
Hand Tools. Everyone should have a comprehensive homeowner's tool kit available to them. A typical one doesn't cost an arm or leg (typically between $30 and $75), and the variety of tools that come with it should cover the majority of your needs. Tool kits normally come with a claw hammer, a set of screwdrivers, long-nose pliers, a level, a tape measure, a socket wrench with some common socket sizes, and other tools that will be needed to take apart most pieces of furniture. Even if you aren't moving, this type of kit is a necessity for any home, regardless.
Box Cutters and Scissors. These tools are going to be used quite a bit during a move. When it comes to sealing boxes, bubble wrapping fragile items, and other similar tasks, you're going to want to have a good, sharp box cutter and a pair of scissors handy. They'll let you cut tape and slice bubble or plastic wrap to size. Then, once you arrive at your destination and it's time to unpack, you'll be able to get into your moving boxes easily. Since these tools are by nature extremely sharp, you'll want to make sure you're taking proper precautions to prevent injury. They should also be kept out of reach of young children when not in use.
Cordless Power Drill. When it comes to taking apart furniture, you COULD do it by hand, but having a cordless power drill is going to save you a TON of effort and time. A decent drill will only set you back around $30 to $60, and with some care you'll get years of use out of it. Beyond being used to take apart furniture, these wonderful inventions also make it extremely easy to take power face plates off if you'll be doing any pre- or post-move painting. Think about picking up a second battery if the brand you choose doesn't come with one. This way, you can keep working with a fully charged battery when the first once drains.
Resealable Storage Bags. When you take apart your furniture and shelving units, you're going to end up with a lot of screws, nuts, bolts, and other small pieces. You'll want to keep these together so you don't lose track of them. Resealable storage bags are the perfect solution for this problem. They let you keep each piece of hardware separated, and, at the same time, put all of them into one moving box, if you like. Just take a small piece of tape and a marker and label which screws go with each piece of furniture so you don't mix them up.
One big fear that people face during the moving process is that something is going to end up getting scratched or gouged. This can be especially heartbreaking when it comes to antiques or family heirlooms. You need more tricks in your moving tool kit to ward off scratches, dings, and dents. Here are some great options available to you.
Moving Blankets. Moving blankets are a fantastic way to guard against damage during a move. You can easily wrap your appliances, furniture, and other large items in them. And they're great not only for stopping scratches and other blemishes. They'll also help protect your possessions from dirt, dust, and moisture. With all these capabilities rolled into one item, it's a must have for every moving tool kit. If you don't want to purchase moving blankets specifically, we'd recommend using old towels, quilts, or other large pieces of cloth to get similar effect protection.
Packing Materials. There are a lot of different materials that can be used to protect your fragile trinkets and knickknacks during a move. You can use these materials to fill the empty space in boxes so your possessions don't jostle around in transit. Things like tissue paper, brown packing paper, foam peanuts, silica gel packets, corrugated cardboard sheets, the always popular bubble wrap, and other such items will help you do this. These are all on the cheap side, so don't hesitate to add them to your moving tools list. When all your stuff shows up in pristine condition, you'll be glad you went the extra mile.
With all of the moving tools we've discussed already, there are quite a number that don't fit into one of the above categories. Nevertheless, these tools can fill a vital role in your move and turn a daunting task into a relatively easy one. Not everything is required for every move, so take a look at your needs and fill out your kit with the pieces most useful to you. This list includes useful items such as:
Reaching Tool. There might be times when you drop something in a spot that's really hard to get to. A reaching or grabbing tool will allow you to extend your arm length to pick up just about anything from anywhere.
Portable Vacuum. Don't haul around a full-sized, monster of a vacuum when you just need to sweep up a small amount of dirt or dust from your possessions. Get a lightweight, handheld, portable vacuum and kiss the cord goodbye. Just make sure you remember to charge it the day before you pack everything up so you get the most duration from it throughout the move.
Canned Air. With everything you're packing up to take to your new house, dirt and dust shouldn't be on the list. A small can or two of air can help you clean out the cracks and crevices in your electronics and other items. Be sure to read the instructions on the can carefully before using it. The gas inside can cause frostbite if applied directly to the skin, and the can gets very cold during extended use, which may result in cold burns. By making sure you follow the safety instructions, canned air is a great way to quickly remove dust and dirt.
Paint Brush or Car Detail Brush. Having a small brush at your disposal is another great way to clean the dirt or dust from your stuff. A brush also really helps when you need to dust off your baseboards or get into shelf corners. Beyond the dusting application, a solid 3.5" paint brush can also come in handy for touching up your walls and closets. No one wants to move into a house that has a ton of scuff marks on the walls.
Step Ladder. Don't try to get to the top shelf of your closet or kitchen cabinets by standing on a chair or box. Invest in a small 3- or 4-foot step ladder instead. The added safety and stability that comes with a step ladder will far outweigh the danger that a make-shift step stool will give you. Plus, this gives you an easier way to hang pictures and put up or take down decorations at your new place for years to come.
Fish Tape. Despite sounding strange, this tool's name makes perfect sense when you see it in action. If you need to run electrical cables or other wiring through drywall or into tight spaces, such as behind an entertainment center, a fish tape reel is the perfect tool for the job. The "tape" itself is actually a thin wire made most often of steel, fiberglass, or nylon. You simply feed the tape off the reel, push it (i.e. "fish" it) into the opening through which you need to drag wires, attach those wires to the end of it, and then reel it back out of the opening. This way, you don't need to stretch for, become frustrated with, and curse at wires that don't cooperate!
Thin, Cut-Resistant Gloves. Having a pair of these around can be a great boon. They provide excellent protection for your hands from sharp edges and dirt. If you want to go a bit more for economy, a box of nitrile or latex gloves would be a close second. They'll at least help you with cleaning and keeping chemicals off your skin, but they won't protect you from cuts. Which type you should get depends entirely on your specific situation and needs.
Shoe Covers. When you want to protect your carpet from outside dirt and grime, you'll want your helpers to wear shoe covers. Professional movers typically have these, but your friends and relatives won't. A 50-pair box of covers goes for around $10 at the time of this writing. So a small up-front investment should keep you from having to hire a carpet cleaner after the move is done.
Door Stoppers. You might think keeping a door open an easy enough task: just put something heavy in front of it, and that'll stop it from closing. However, you're creating a tripping hazard by going that route. Picking up a few heavy-duty rubber door wedges will provide you with the holding power you need without creating a dangerous environment at the same time.
Label Maker. These things are just a ton of fun and have a lot of uses. Pick one up. We're sure you won't regret it.
LED Flashlight. Don't work in the dark. Get a good flashlight to help light your path.
With all of these moving tools and moving supplies at your disposal, you'll be able to prepare yourself for just about any situation that can come up during your big day. On the surface, it might seem like a lot of stuff to add to a kit that you'll only be using a few times. However, a lot of the items included here have quite a few routine uses. So, grab the tools you need, and lower the stress of your next move.
Of course, if you find yourself overwhelmed by the size of your move, consider getting a
professional moving quote
today. Our team has the experience, knowledge, and, of course, all the moving tools needed to safely and securely get your possessions from Point A to Point B with as little difficulty as possible.
So schedule your free, no obligation,
in-house moving estimate
today, and discover for yourself why so many people rely on A-1 Freeman for help moving. There are no limits to the distance we can go, so leave the heavy lifting to us.
Request a free quote