Out with the Old(er), Into a Newer Space: Seniors on the Move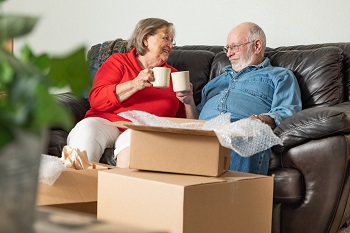 By Julie DeLong, A-1 Freeman Moving Group
America is a society on the move: over 32 million of us moved to a new residence in 2018; that number represents about 10% of the entire population. Seniors transitioning to new homes comprise a small but significant portion of adults packing up and starting over in new neighborhoods. A move is a time of both joy and anxiety regardless of family size and situation but changing places can present special challenges for older individuals.
Eight ideas for a stress-less senior moving experience
Start planning well in advance of moving day
A number of factors go into the decision of when and where to move: health, the desire for a change of scenery or type of housing, cost of living, the ability to travel or the desire to be closer (or farther away from) family and acquaintances. The choice of a new home includes ease of access to shopping, medical facilities, transportation, recreation, and cultural centers. Research cities and towns of interest. Look at prevailing weather patterns, infrastructure, politics, and public amenities as part of the decision. Many local newspapers are now online, and it is worth reading a few days' worth to get a sense of everyday life in a prospective new hometown.
Inform family members of the decision
Keep family members up to date on the planning of the move. Their involvement helps ease the stress and their input, particularly from those with moving experience, is invaluable to steer clear of expensive and avoidable mistakes.
Prioritize what the new neighborhood needs to meet your needs
Compare your current neighborhood to those under consideration. What do you love about where you live now? What needs improvement? Then make a pro vs. con list. Are there things you love so much that you will pay extra to have them? Are there things you just cannot live with, no matter how much you enjoy everything else about the place? There is no perfect place, but many are excellent; the key is finding the one that balances best with your senior lifestyle.
Get to know the new neighborhood with a visit and/or rental first
Before you put all your money into a home or condo or put down two months' security deposit, try a short-term rental, a vacation or stay nearby with friends or family and do a trial run of a new neighborhood. Stay awhile, walk, shop, eat, and meet the people, learn the social norms and politics, and find out what it really costs to live there.
Declutter, donate, recycle, sell
You have made the decision to move on, now clean out before you pack up. Declutter and donate, sell, or recycle what you no longer need, want, or will not fit in the new place. By doing this, your professional moving company will have less to move, which will reduce your overall cost to move.
Fix it, clean it, paint it, or live with it: repairs vs. renovations
Make decisions about what to fix or replace as you get your old home ready to sell or prepare to vacate your apartment. Simple fixes are tasks such as holes from the art on the walls need to be filled in, scuffed walls painted, baseboards cleaned, the refrigerator washed, and the stove scrubbed. Major renovations may result in a higher resale on your house, but some renovations may backfire if they are outdated by modern buyers' standards or so expensive you never recoup the cost.
Self-pack vs help to pack: lifting, loading, and letting someone else do it
Know your limits and keep your lists handy. Getting hurt while packing up is no way to start a new life. The lists will help you remember how many boxes you have and what is packed in each one, so you do not put pots and pans in the bathroom upon arriving at your new abode. Respect your body's ability to work so many hours lifting and labeling so many boxes and allow yourself the help of a professional moving company.
The role of the professional movers
As a professional residential mover, A-1 Freeman Moving Group is here to help you get from where you are to where you want to be, safely and smoothly. We specialize in the senior moving experience and our almost half-century in the field assures that any move you make, whether it's to a smaller home, retirement community or an international location will include careful packing and unloading, shipment tracking, furniture and appliance installation, and protection of floors, walls, banisters, and furnishings. Contact us for a free quote and we will move you along the road to your next new home.
Request a free quote