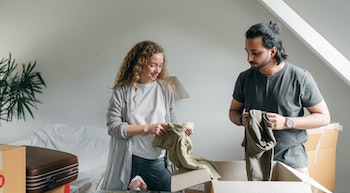 By Julie DeLong, A-1 Freeman Moving Group
Unless you get rid of everything which you possess and start off new at your new home, moving entails a tremendous effort. If you determine it's time to move, there are so many jobs to make sure your move flows as easily as is possible. You have to handle budgeting, home hunting, choosing a
moving company
, packing, informing everyone you know, switching or setting up utilities, unpacking, acquiring new doctors, signing up the kids for school and a whole lot. With all that stuff to get completed in a set amount of time, it would be more surprising if moving was not a lot of work. Nevertheless, sometimes, we make moving more complex and time consuming than it needs to be. So, today we're here to target ways that we tend to make moving more work than it ought to be.
Inadequate Planning
Generate a detailed plan for your move, one which breaks out everything you need to do and incorporate a schedule with due dates. Make sure and assign someone to every task.
Procrastination
Why pack up your things today if you can delay until tomorrow, right? Wrong! When you notice yourself frequently putting things off, you could be in for an unsightly moving day. No matter if it is calling professional movers or maybe purging your stuff, procrastination can result in slowdowns and additional costs. Do not defer items on your to-do list. Establish your moving schedule and then stick to it.
Moving Too Much
Let's be realistic, most people have a lot of stuff within their homes that they don't need. And, when it's time to pack up and move, should you simply think that everything has to move along with you, your move will cost more and take a longer period. Prior to when you commence packing, take the time to sort through your things. Don't consider moving things that are broken, that you simply won't make use of and that you just don't need. It's additionally a good plan to examine hefty belongings, because they could cost more to move than they are worth, and they also might be challenging to locate a spot for them in your new home.
Missing Packing Deadlines
The professional movers are arriving in the morning. Your stuff isn't even close to being packed up yet, which means you rush around like a nutty person and cram belongings into whatever cartons you may see. Poor packing makes it more likely that things will break in transit. Inadequate labeling causes it to be more difficult to seek out things when you're unpacking. When you don't get everything packed up before the professional movers appear, you take the chance of attempting to pack as the movers are filling the moving van. Or even worse, the movers could cancel for the day and ask you to call your customer care coordinator to reschedule your moving day. Do not delay. Start packing well in advance of your move date.
Doing Too Much Yourself
There is a point at which moving can become a lot for a single individual. Using professional movers and having the moving company pack your items are usually evident things to do to lighten the strain. But there are more methods for getting help. You might ask pals to help you have a garage sale or to watch your youngsters or household pets when you are packing. Additionally, various non-profit organizations will come and pick up your contributions, which can save you a jaunt to the drop off location. You could use a housecleaning service to take care of your old residence once you vacate and to also clean your new house prior to when you move in. And finally, make sure that the whole family is helping with moving affiliated projects. Even the younger kids can be given age-appropriate projects.
Eventually throughout the moving process, it is normal to ask yourself, "Why is this so much work?". However, when you stay away from the downfalls outlined above, ideally your move will all fall into place.
Should you be ready to move, A-1 Freeman Moving Group would like to help. Contact us today!!
Request a free quote