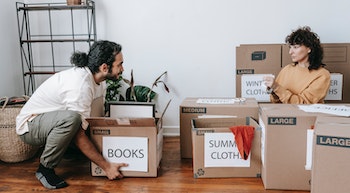 By Julie DeLong, A-1 Freeman Moving Group
Whether you are doing it yourself or working with a
professional moving company
, moving isn't just nerve-racking, but costly. Chances are preserving a little bit of funds anywhere you can, is more than helpful. Here are a few suggestions which can help lower your expenses while moving.
Minimize Your Belongings
A common movement currently is minimalism: An intentional approach to life which cuts down on the number of "things" in our life. When it comes to long-distance moving, why not make your new beginning, even more tidy by de-cluttering and downsizing the quantity of belongings you are moving?
Some well-known examples of items that you might give consideration to getting rid of include:
· Unused apparel
· Old products (such as cosmetics, food items, and so on.)
· Old electronics
· Broken home furnishings
· Containers and bottles
· Receipts
· Magazines/Papers/Books
· Broken toys and games, tools, as well as other worn out household items
· Stored collectibles
· Non-functioning kitchen appliances
Naturally, the idea of just discarding a number of these belongings might raise your blood pressure nevertheless you will not automatically have to toss them. You could offer electronics to schools as well as other charitable organizations. Books could be donated to universities, your local library, or schools. And because most Americans have way too many clothes, probabilities are you won't feel awful about giving a few of those only-worn-once pieces of clothing to a nearby charitable organization or consignment retailer.
On the other hand, when you have a number of items of worth, it is possible to counterbalance a bit of your long-distance or local moving costs through holding a garage/yard sale. It will not only decrease the items you will need to move, but you will feel a lot better recognizing you will be truly starting clean inside your new spot.
Drive Your Own Automobile
Having a moving company move your car could be an unnecessary cost for you. If you choose, rather, to drive your own automobile, it comes along with some bonuses. Firstly, you can bring a load of several of your more cherished things which may not be well suited for a moving truck which include plants as well as other personal possessions. Second of all, driving to your new home allows you to see the surroundings and get to know the area you're moving to.
Needless to say, driving your personal car or truck may not be the most viable option in each and every circumstance (including if there's more than a single automobile, for instance) whereby, you'll want to look for a moving company who is competent with these kinds of moves.
Pack a Few Things Yourself
Contingent on whether you're doing a local or long-distance move and how much stuff you have, the expense of packing varies. It is possible to significantly decrease the expense of your move by packing several of your items on your own.
We recommend creating a first-day box packed with basics you should have for the new house, the initial day you arrive. This is one thing you should pack for yourself as you know best, the things you will most need that initial night in your new residence.
Other items you can look at packing include:
· Bathroom towels/Bed sheets
· Pillows
· Books
· Pots and pans
· Clothes
· Toiletries
· Cleaning products
· Pet necessities
· Toys
· Knick-Knacks
While packing your own items, make sure to get suitable boxes, strong tape, and a marker to jot down the contents of the cartons to ensure you recognize which room they are supposed to be in. Most local moving companies feature several levels of packing service, so make sure and talk with your mover to figure out which tier will best fit your needs and also your price range.
Mind the Time
Are you aware that professional movers typically require different fees depending on the time of year? It's true, in their busy period, May through August, a peak season upcharge is applied. Of course, the time of the year you move, isn't always something you can select for numerous factors but when you can, take into consideration a move throughout the slower seasons - from September through April - when demand is generally least.
Moving is an exhilarating time and saving cash on the expenses is just one way to make it better still. If you want to learn more regarding A-1 Freeman Moving Group's moving services, reach out to us now for more information regarding how we can help you to get to wherever you're going.
Request a free quote