How a Professional Moving and Storage Company Can Help if Your Move Doesn't go as Planned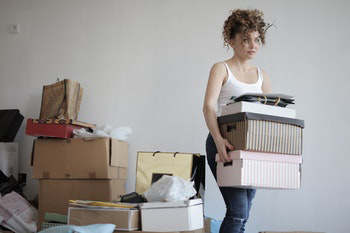 By Julie DeLong, A-1 Freeman Moving Group
Has anything with 2020 REALLY gone as we planned? For many, it seems like everything that could go wrong, has gone wrong. Similarly, moving to a new home has a long list of potential things that could go haywire. One major stress is when the worst things happen in the middle of your move, causing chaos for the moving strategy you had in place.
While we cannot necessarily say the same thing for 2020, with moving, things do not have to fall apart if you have a fallback plan. Part of this comes in the type of moving and storage company you hire. What kind of services do they provide to make things more convenient if something unexpected occurs?
Here is a look at typical things that can occur mid-move and how your professional mover providing storage helps considerably.
Closing on Your Home Pushes Out or Falls Through
While you have maybe made headway on moving most items from your old home to your new home, what happens if the closing on your current house suddenly changes?
In some cases, this could mean the buyer wanting to wait a little longer to close the deal. Or it could mean the deal falling through due to unforeseen circumstances.
All these scenarios are possible at the midway point of your move. When they occur, it might leave you in a state of chaos in wondering what to do. It could pose a bigger problem if the deal falls apart and you are unsure whether to leave items in your home now or move them out.
Or you could end up with a new buyer who expects you to clean everything out in just a couple of weeks before you have had a chance to find a new place.
You Can't Find a Temporary Location
Maybe you made plans to live in temporary or rental housing during your moving transition. How would you handle things if this suddenly became unavailable? Sometimes temporary housing means managers giving priority to those who plan to rent long-term. This could suddenly leave you wondering where you will place your furniture when you only have a short time to move everything.
Where are you going to go on short notice? Your best bet is to look for some sort of storage facility. Does the moving company you are planning to hire offer such a service? If they do not, it is best to "move on" (get it? Ha!) to a moving and storage company.
Temp storage at an independent facility could cost you more than you think. Some independent storage facilities might have a low monthly rate but charge extra for things like locks and climate-controlled lockers. Plus, believe it or not, some storage facilities are not accessible with a moving truck, so your belongings may need to be shuttled from the storage facility to the moving truck and vice versa, which will cost a pretty penny. So, in the end, fees could cost you more using an independent storage facility than when you store your things with a moving and storage company.
Other Circumstances That Disrupt Your Move
A lot of other things could happen mid move that you did not plan for weeks earlier. If moving in the winter (or even in the fall, as those of us in Oklahoma witnessed last week), a massive snow or ice storm could hit. It may leave you unable to move things for a week or two, despite a deadline.
Other situations could develop like natural disasters or even a family emergency, placing your move in turmoil.
To deal with all these issues, you need a moving and storage company to solve your problems.
Storage That is Ready When You Are
At A-1 Freeman Moving Group, we offer storage options in addition to providing residential and commercial moving services. We ensure we have storage available when you are ready to use it.
When something unexpected occurs, we will move your furniture and belongings into our secure storage facilities for as long as you need. If you need to store for only a few days or a few months or longer, we can accommodate any situation.
Request a free quote