Five Apps for Managing Your Move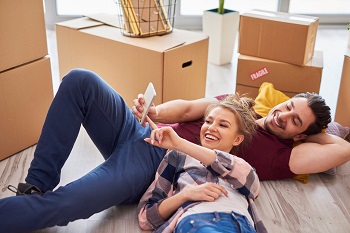 By Julie DeLong, A-1 Freeman Moving Group
Moving? There's an app for that. The question is, which is the best one for you? There are apps that sync with your
professional movers
, apps that create virtual floor plans of your new home, and apps that track your packing.
These are five apps you might want to check out for organizing and managing your move regardless if you are moving across the country or to the other side of town. The basic versions are free, but in-app paid premium versions are available for most if you need more detailed organization. All are available on the standard platforms--iOS for Apple, Android, GooglePlay, or Amazon.
Sortly
Organizing and taking inventory of all your household goods is what Sortly does best. The free version gives you access on one device, and lets you inventory 100 items with 8 photos each, add a description, and create custom notes and tags. A premium version increases the inventory to 2000 items, adds devices and users, and generates QR codes and labels for box management. Sortly also includes an 8-week checklist for your moving timeline.
Task Rabbit
TaskRabbit connects you with people, or "takers", who can help you with the unexpected tasks that pop up when you're moving. If you're packing up yourself but need some extra hands, go on the app to find packing and moving help. Handyman chores, cleaning, assembling and disassembling furniture--they are owned by IKEA. TaskRabbit runs background checks on their taskers and you can read their reviews before you book. You pay through the app. Taskers are in most metropolitan areas across the country--certainly where there's an IKEA retailer.
Move Advisor
This is a comprehensive app that covers every aspect of your move, from searching for moving companies to arranging the furniture in your new home. MoveAdvisor lets you manage your inventory room by room, calculates the boxes you'll need based on the inventory you enter, and even ballpark the shipping weight based on that information. If you decide to eliminate Grandma's sofa, just delete it from that room and the app recalculates all the data. Share this info with your professional mover, and they'll know how many moving blankets, specialty boxes, and other supplies they'll need for your move.
MoveAdvisor also has a detailed interactive timeline so that you can be in complete control of your tasks when moving.
Moved
Moved is like a digital concierge--you'll get a personal assistant--and Moved promises it's a real human, not a bot--when you sign up, and live chat through the process. Moved can help you find a moving company nearby, packers, junk removal, mail forwarding--just about any moving task you can think of. The service is free, you pay when you book a service. Moved is nationwide but offers assistance with local moves (within 60 miles) in major cities like New York, San Francisco, or Boston.
Magic Plan
This is where the fun starts. With MagicPlan, you scan your rooms with your smartphone and digitally place your furniture. You can draw and import floor plans or upload a 3D model of your room. With a Bluetooth laser meter, (around $50 online) you'll get exact dimensions, including odd corners and doorways. Prices start at $2.99 for a floor plan on demand, or you can purchase a subscription. MagicPlan assures you that your furniture will not only fit in the new space but will allow for traffic flow and look good. If you're renovating before you move in, MagicPlan is a huge asset in helping you figure out those costs from a distance.
A Notebook and A Pen
Okay, so this isn't really an app, but it's not a bad idea to keep a moving notebook--old school paper--handy. Even the most tech-savvy among us like the feel of a pen in hand, and never underestimate the power of the doodle factor. Also, if you're talking on your phone you might need to take notes--and a paper backup will come in handy.
Request a free quote