Discover the Pros and Cons of Do It Yourself Moving
Moving Day. There aren't a large number of other events you'll go through that have as much of an impact on your life. And as the deadline approaches, you're going to be busy figuring out all the nuances such as getting your change of address submitted, getting your utilities transferred over, and determining how you're going to go about getting all of your stuff from Point A to Point B.
Well, you pretty much have two choices when it comes to the last part. You can either move yourself or you can hire a professional
residential moving company
to help you with it instead. When it comes to do-it-yourself moving, there are several pros and cons to take into consideration. Here at A-1 Freeman, we've developed a small, yet comprehensive, guide for you to look at that will cover all the aspects that go into a Do It Yourself (DIY) move so you can make an informed decision on how you wish to move forward.
Pros of a Do It Yourself Move
Flexibility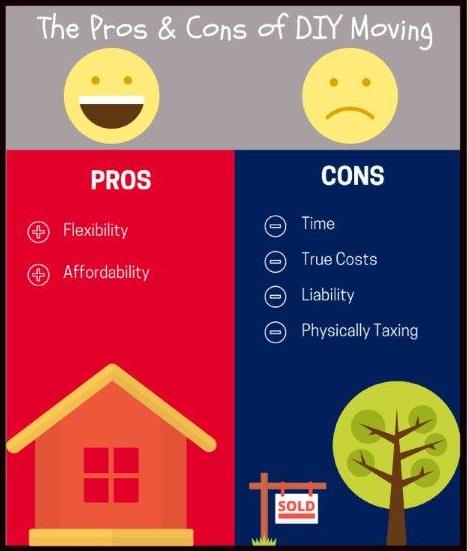 When it comes to packing up your possessions, you have full control over everything. You know exactly what goes in which box and exactly how these boxes are handled during all phases of the move. This can give you a little more peace of mind, and if you need to be 100% sure that some boxes stay together you can do that. Our professional movers are extremely careful with everything they touch, but it's understandable that sometimes you just need to be sure yourself.
You're in full control of your schedule. You can plan around when you are available to move boxes instead of needing to work with a company and their openings. A typical moving company will be able to work with your needs, but on occasion the two calendars simply don't line up with each other.
If your plans change at the last minute, it's incredibly easy to adapt. You can postpone your trip by an hour or two, or even into the following week if need be. This can be especially handy if you or one of your helpers gets sick or has an emergency pop up.
Affordability
You can enlist your friends and family to help you with the packing, loading, and unloading tasks. Usually, this will only cost you pizza and drinks for everyone.
You can rent a smaller truck if you have some helpers who own trucks, SUVs, or vans. This will let you save on the rental cost and fuel costs, as you'll be performing less trips and need less room to store things in.
Cons of a Do It Yourself Move
Physically Demanding
There's quite a bit of effort that goes into packing up, loading, and unloading everything during a move. This is going to be physically taxing for everyone involved. If you or your helpers aren't in the best of shape, you'll be running the risk of injury. The initial prospect of saving a little bit of money may end up costing you a medical bill if you accidently throw out your back. Be sure everyone that's going to be lifting and hauling things is capable of doing it.
Time
If you aren't well versed in everything that goes into a move, you might find yourself ending up short on time. It's pretty easy to underestimate the amount of time and effort that goes into packing up an entire house, loading them safely and securely into your moving truck, hauling them to your new home, unloading everything safely, and then unpacking so you can get back to your normal routine. What you thought might only take one day can easily expand into two days or maybe more. This might cause you to need to take additional time off work or miss out on other important events.
Hidden Costs
You may know the exact cost of renting the moving truck, but have you fully factored in the amount of fuel you're going to be using? These big vehicles are notorious for guzzling gas, getting some pretty low miles per gallon. You can easily wrack up a fairly large gas bill pretty quickly, especially if you aren't super-proficient with your truck loading skills.
Other things that can easily pop up to bloat your budget unexpectedly include:

Moving Tools

Packing Materials
Furniture Pads
Moving Dollies
Lodging and Food for long distance moving
So stop a moment during your move planning phase and take stock in what is important to you. Time, ease of the move, control of the move, and cost are all something that you should assign a value to. From there you'll be able to decide on if the pros of DIY Moving outweigh the cons. During this process, you should also get a few
moving quotes
so you can compare your own costs to that of the professionals. Click
here
to get started with your free moving quote.