All Boxes are not Created Equal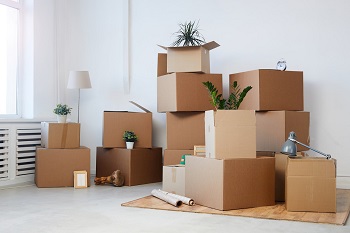 By Julie DeLong, A-1 Freeman Moving Group
If you are moving, then you will need boxes. As a
professional mover
, we see it all too often, people simply grabbing whatever is at hand, without thinking about it. When you do start looking at boxes, it can be overwhelming. There are a lot of different types of box, with different sizes, weights, and purposes. However, you shouldn't necessarily put anything in any box in which it will fit. The most important thing is not to over pack boxes so that they weigh too much. After a while, five pounds can seem like fifty.
So, how are your boxes categorized?
Size and Weight
Boxes are measured in cubic feet, and boxes specific for moving generally start at 1.5 CF. These small boxes are best used for your heaviest items, such as books and small appliances. Knickknacks should also be put in small boxes, making it easy to pack them so they don't move around.
Heavy-duty boxes are available, which take more weight, but remember that just because you can pack more weight into a box doesn't mean you should. Unless, that is, you have a heavy-duty back. However, these boxes often come with grips for easier moving, which can let you move more than one box at a time.
The another size is 3.1 CF. These boxes are best for shoes, toys, pots, pans, etc. Don't overload these either, although they often have the built-in grips, they tend to be unwieldy. 4.5 CF boxes are best for linens, sweaters, towels, clothes and other light but bulky items.
The largest standard boxes are 6.1 cubic feet; use these for pillows, lampshades, blankets and other large items that are lightweight.
Specialty Boxes
Specialty boxes are designed to move one particular kind of thing; however, if you are flexible and creative you can use them for lots of other stuff as well. They're more expensive, but generally well worth the cost. Here are some typical specialty boxes:
Dish Pack
Dish packs fall between 1.5 and 3.1 CF size and have a double layer of corrugated cardboard. These are designed for anything fragile, which might include dishes, but also ceramic art, stereo components, lamp bases, etc. Dish boxes are best used in conjunction with foam sleeves that slide onto your dishes. However, if your items don't fit in a sleeve, wrap them in newsprint. Some boxes have inserts for glasses, which keep them in place.
Wardrobe Box
A wardrobe box's primary purpose is to keep your clothes from becoming wrinkled in transit. They are 10 CF, taller than the 6.1 CF box, and made of heavy-duty cardboard. They stay vertical during transit and have a hangar bar from which you can hang your clothes. They're also good for dining room chairs, golf clubs, skis, and anything else that is particularly long.
Mirror Box
Mirror boxes are for mirrors and framed pictures. They're flat, large, and designed to protect the glass in the frame. These also may work well for flat screen TVs, computer monitors, large platters for entertaining, even tennis rackets.
Other Things to Consider
Use actual moving boxes when you can, although saved shipping boxes can be handy for small items. For electronics and odd-shaped items it's often worth saving the box they originally came in. When you choose your boxes, make sure that you choose boxes that show the right strength measure. Most standard boxes are rated for up to 40 pounds and heavy-duty boxes for up to 65 pounds.
Choose boxes made from recycled cardboard if you can. After you are done with them, moving boxes can be recycled, stored for a future move, or passed on to a friend who is moving.
Remember that you can buy boxes from your moving company if you need to, and they will often give you advice on what boxes to get based on pictures you might have sent them to get a quote. If you have your moving company pack and unpack your stuff you don't even have to worry about boxes, as they will use their own. A professional mover, such as A-1 Freeman Moving Group, will help make sure your stuff is boxed up correctly and moved safely to your new home.
Request a free quote