The Definitive Guide to Packing for your Move
If you decide to do your own packing, it can be a real money-saver. But it does take extra time and energy to get the job done right. And with the right materials and expert guidance from us, you can pack your whole house successfully and efficiently.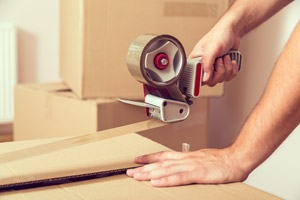 To get started, make sure you have ample moving supplies of:
Tissue paper

Packing paper (plain newsprint)

PVC Packing tape

Permanent markers

Professional quality boxes (available from A-1 Freeman)

Utility knife and scissors
Using new, quality packing materials specifically designed for moving can ensure that your property arrives safely. A-1 Freeman has a wide range of boxes and professional packing materials available:
1.5 cu. ft. cartons Small carton for heavy items such as books, files, music CDs and DVDs/video tapes
3.0 cu. ft. cartons Medium utility carton often used for pots and pans, toys, and small appliances
4.5 cu. ft. cartons For bulky items, such as linens, towels or toys
6.0 cu. ft. cartons For large, bulky, or lightweight articles, such as pillows or large lampshades
Wardrobe cartons A "portable closet" that keeps clothes and draperies hanging on a built-in bar
Mirror cartons Several sizes of telescoping cartons for framed pictures, mirrors or glass
Mattress cartons Available in queen/king, double, single (twin) and crib sizes. A separate carton is necessary for box springs
Dishpack (or China Barrel) Heavy duty carton used for dishes/china, crystal and glassware.
Double-wall cartons Extra protective cartons made especially for fine china, crystal, and other high-value, hard-toreplace items
Stretchwrap A special plastic covering that safely adheres to furniture and protects it from snags, tears, and dirt.
PVC Packing Tape The most effective tape to seal boxes.
Ask about about materials available for purchase from your local A-1 Freeman Moving Group location.
Packing Preparation
When packing yourself, have everything properly packed and ready for loading the evening before moving day. Leave out only the things you'll need that night, the next morning, and immediately at your destination for last-minute packing.
Basic guidelines to make packing a snap:
Make a schedule, allowing enough time leading up to moving day

Pack items in the basement, garage, or attic first - these items usually aren't needed right away

Stay organized by packing room by room

Designate work areas in each room

When a room is completed, sort cartons by:

Light

Medium

Heavy - limit your heaviest cartons to 50 pounds each

Clearly label cartons or items that you do not want to transport on the van
Pack for Success
It's recommended that your A-1 Freeman moving crew handle the following:
Marble or glass tabletops, heavy wall ornaments and mirrors 40" x 60" or larger

Pool tables

Bulky, fragile items like large trophies, statues, chandeliers, etc.

Major appliances
Your self-packed cartons will need to be inspected by your A-1 Freeman moving crew before they can be loaded. If items are improperly packed or cartons are susceptible to damage, they may need to repack them before they can be safely transported.
Here are a few more suggestions for a successful pack:
Start with out-of-season items. Next, pack things used infrequently.

Empty drawers of breakables, spillables, nontransportable items and anything that would puncture or damage other items.

Pack similar items together. Do not pack a delicate piece of china in the same moving carton with a bowling ball, for example.

Keep all parts or pairs of things together — for example, curtain rod hangers, mirror bolts, and other small hardware items should be placed in plastic bags and taped securely to the article to which they belong.

Wind electrical cords, fastening them so they do not dangle.

Wrap items individually in clean paper. Colored wrapping paper draws attention to very small things that might otherwise get lost in a moving carton.

Use newspaper only for cushioning; never place it against items, as the ink will rub off. It can even get embedded into fine china, so be careful!

Place a two- or three-inch layer of crushed paper in the bottom of your moving carton for extra cushioning.

Create layers in the carton, with the heaviest items on the bottom and the lightest on the top.

Fill in empty spaces in cartons with crushed paper or use sheets of cardboard as dividers.

The more fragile the item, the more cushioning needed. Be sure no sharp points, edges or rims are left uncovered.

Pack small, fragile, individually wrapped items separately or a few together in small boxes, cushioning with crushed or shredded paper.

Place small boxes in a single large box, filling in spaces with crushed paper.

Avoid overloading moving cartons, but strive for a firm pack that will prevent items from shifting. The cover should close easily without force, but should not bend inward.

Put a special mark (the number 1, or the letter A) on cartons you want to unpack first at your destination.
CLICK HERE FOR OUR "PACKING TIPS FROM THE PROS" INFOGRAPHIC!
What Not to Pack
You should transport valuable and irreplaceable items with you rather than on the truck. In addition, there are several items that can not be put on the truck, such as explosives, compressed gases, flammable liquids and solids, oxidizers, poisons, corrosives as well as radioactive and other hazardous materials.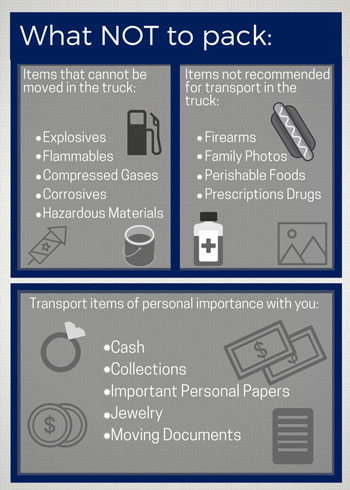 Typical examples of items that cannot be moved include:
Nail polish remover

Paints and paint thinners

Propane cylinders

Automotive repair and maintenance chemicals

Radio-pharmaceuticals

Matches

Lighter fluid

Gasoline

Fireworks

Oxygen bottles
Other items not recommended for transport on the van include:
Firearms

Family photos

Food in glass jars and perishable foods

Prescription drugs needed for immediate use
Transport items of personal importance or sentimental value with you, such as:
Cash

Collections (i.e., coins)

Important personal papers (i.e., deeds, wills)

Negotiable papers (i.e., bonds, stocks, certificates)

Jewelry

Moving documents
If you have any questions, just ask your Relocation Consultant.
Labeling Hints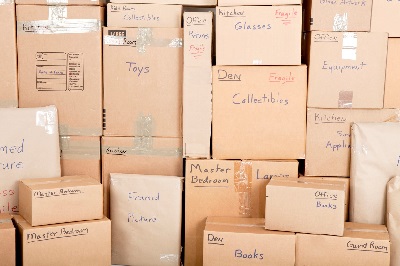 Each and every moving carton must be labeled:
Use a broad, felt-tipped marker.

Clearly mark the contents and the room it will be placed in.

Indicate "FRAGILE" on delicates; "THIS END UP" where appropriate.

If available, include the bill of lading number from your moving company on every box.

As you finish with each moving carton, list the contents on the side of the carton (for easy viewing while stacked) and in a special notebook. You might want to number and/or code the moving cartons as well.

Indicate your name and the room to which each moving carton should be delivered at destination.

Tape a sign on the door of each room at destination corresponding to the carton labels so movers can get the cartons into the proper rooms quickly.

Put a special mark (the number 1, or the letter A) on moving cartons you want to unpack first at destination.